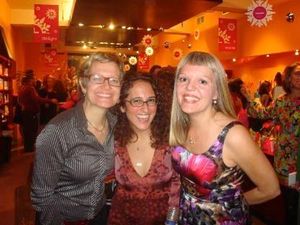 I arrived early for Babeland's "Eco-Sexy Earth Day Workshop" which focused on natural lubricants and dildos made from natural materials. Let's face it, if you're going to go GREEN you may as well go whole-hog, and Babeland does not skimp on eco-friendly alternatives. Even traditionally leather harnesses and restraints were offered in vegan-friendly nylon (though it was pointed out that "floggers" do not work well when not made from good old-fashioned leather).
Dallas, our dildo-demonstrator, showed how the hand-blown glass dildo was nearly impossible to break and how it could be heated or chilled to suit your fancy. She spoke about wooden and stainless steel dildos as well, and how more vibrators are on the market that you can re-charge; just like your cell phone! Babeland makes playing with toys easier on you and the environment.
After her informative sex-toy talk I was set to speak about alternatives to menstrual accessories; not as racy but extremely relevant. The store was crowded with mostly women including a wonderful group of young feminists from SUNY New Paltz who were all adorably eager and enthusiastic about this evening's workshop. They had money left over in their group budget for a field trip so this is exactly where they chose to be: Babeland, Sex Toys For A Passionate World.
I began by letting my audience know some of the stats on our menstrual contribution to the environment. About 14 billion pads, tampons and applicators are flushed into our sewers or thrown into landfills annually – just in North America. With every woman getting her period about 400 times in her life that's about 15,000 pads or tampons per lifetime. And we MOMS worry about DIAPERS in our landfills! We're creating a mess ourselves.
In addition to the impact this has on our environment consider that tampons and pads are basically made from trees! Wood pulp goes into pads (just as toilet paper is not cotton but wood-product) and tampons are made from a little bit of cotton but mostly rayon which is again, wood-pulp. Then these items get bleached with chlorine so they are white and pristine looking. When we put tampons in our very sensitive vaginas some of the toxins may be absorbed – and who needs that? Lastly, there is something that women don't think about much with tampons, but because they are designed to "absorb" they also absorb too much of our own natural humidity. When this occurs it upsets our delicate internal balance, which can lead to yeast infections.
Looking into the group of very young faces I decided to illustrate my point further.
"Have any of you ever heard of a tampon called 'Rely'?" I asked. They solemnly shook their heads, though one older woman gave out a low whistle of recognition. "Rely tampons," I explained, "were aggressively marketed to women in the late 70s as the answer to all your menstrual problems. They were made with revolutionary polyester beads that allowed the tampon to hold more than 20 times its own weight. The ads boasted, 'they even absorb the worry'."
Well, what scientists didn't count on was that Rely tampons' super-absorbency upset the natural viscosity inside a woman's vagina. Because the tampon dried you out removing it would create tiny abrasions on the vaginal walls. All this conspired to make a perfect environment for bacteria to breed and then enter the bloodstream sending women into toxic shock. Toxic Shock Syndrome (TSS) caused many deaths, comas, severe sickness and occasionally resulting in digit-amputation for scores of women who tried this new "wonder-tampon".
The tragedy cost Proctor & Gamble over 75 million dollars in lawsuits.
"I say this to you now, because although Rely tampons have long been off the market, Toxic Shock Syndrome is still a threat to women who regularly use tampons," I went on. "This is why there are recommendations to NOT sleep with tampons inside of you and why there are guidelines about using the correct absorbency level."
The crowd was dead silent and captivated. My props were laid out before me and it was the perfect segue into showing a wonderfully all-natural – un-tainted by chemicals alternative to tampons and pads.
I showed the panty-liner, pads, and other accessories that LunaPads has created and perfected over the years. They are soft and colorful and best of all – let your body breath while wearing them. LunaPads even makes their own panties and thongs with a built-in mini pad for light-days or for back-up with a DivaCup. The DivaCup, I went on to explain, can be worn for up to 12 hours and holds up to 2 ozs. of menstrual fluid. Imagine not having to worry about changing your cup for hours on end; and never having to worry that what you're putting in your body can harm you. DivaCups are made from medical-grade, hypo-allergenic silicone.
"And may I point out how much money this saves you?" I said with a flourish. It's true when you think that washing your pads and using a cup will save you hundreds of dollars a year and has a very low-impact on our environment; what's holding you back?
For many women, it's a psychological leap to get over thinking that their menstrual blood is somehow unsanitary or disgusting. There is an urge to throw it away as quickly as possible; or to not see it in a cup. I encouraged the women present to feel the flannelly softness of the pads and imagine that against your skin instead of a plasticy panty-liner. They were all extremely UNskeptical which finally made me inquire, "How many of you have ever used a DivaCup or a reusable pad?"
And I kid you not, ALL the young women from SUNY raised their hands, in addition to more than half of the other women present.
I burst out laughing and said, "Well, I guess I'm preaching to the converted; everybody enjoy your gift bag samples and feel free to ask me questions!"